Back!
The Hedmark landscape lay under a spell of deep, creaky cold. On the railway station a train stopped, emitting a good looking, mustachioed man in a bowler hat and dark suit, skates in his suitcase. "I'm back!" he thought.
It was clear and calm with a slight northerly draught this Hamar Sunday. The thermometer stood and shivered at −17 (1.4°F), a bit too cold for really fine and smooth ice, and the going was somewhat heavy at the Hamar Cup races. A few pbs were set still, despite the fact that most skaters here in eastern Norway only had 12 days of ice training behind them as yet this season.
The junior class skated first, and first pair was the KSK skater (and biker) Gunerius Schou and the KIF skater Otto Haug, the former finishing in a fine time of 49,8, well ahead of his pairmate. In the next pair, the Trønder Oluf Jacobsen beat the KSK skater Ragnvald Mathiesen narrowly and took the lead in 49,4. Then the KSK skater Sigurd Syversen beat the home skater Lundaas without impressing exceedingly, the Trønder Rustad beat the Hamar skater Melvin Johansen, who fell, and in the next to last pair, Ivar Fyhn took the lead with 49,2. In the last pair, the home skater Lars Larsen won against Bertelsen, clocking a new pb in the moderate time of 50,8.
Results:
1.Ivar Fyhn.TSK          49,2
2.Oluf Jacobsen.TSK      49,4
3.Ragnvald Mathiesen.KSK 49,5
4.Gunerius Schou.KSK     49,8
5.Olaf Rustad.TSK        50,2 pb
6.Sigurd Syversen.KSK    50,7
7.Lars Larsen.HSK        50,8 pb
8.Otto Haug.KIF          51,4
9.Hans Brandt.KIF        51,5
10.Alf Lundaas.HSK       51,8 pb
11.Wilhelm Bertelsen.KIF 52,5
12.Melvin Johansen.HSK   55,8f pb

Oscar was ready. It was the 4th pair, and in the other lane his old buddy Martin Sæterhaug stood waiting. His dreams and thoughts had circled around this moment so much these last few months. As did the dreams and thoughts of so many others, in speech as well as in writing these last few weeks and days too, ever more as the day drew near. This pause, what had it done to him? Was he going to return as strong as before, or was his career over already? Speculations ran high. But he was needed. His country needed him. The last couple of years, all of the championships had gone abroad, and the only trophy brought home was a measly cup match against the Swedes. The fate of the nation lay on Oscar's shoulders, and he felt the jitters of it. Even the journalists, who had turned up in strength for the occasion, noticed, and wrote about it. He asked himself the same questions. Was he going to mess it up this time, or was everything going to be fine just like before?
But right then as he stood there with Martin at his side, waiting for the flag, his jitters suddenly had left him entirely. He was calm and confident, and ready. And when the flag finally fell, the signal was like a gunshot. He exploded with up-pent energy, draining every fibre of strength in his body, determined to show them what he could do. From the first stride he was in front, and the lead increased steadily. The hurrahs rang just like before and he could hear the same old warm and encouraging shouts again. Through the first curve he went in dizzying speed and then another. And when he crossed the line and the time was announced, it turned out that he had reconquered the national record that Henning Olsen had been allowed to borrow in his absence: 45,0, also equal to the lowland record he had set himself during one of his exhibition races the same season.
500 m seniors
1.Oscar Mathien.KSK    45,0 NR RR EqLR
2.Martin Sæterhaug.TSK 46,8
3.Thoralf Thoresen.KSK 48,2
4.Einar Berntsen.KSK   48,8
5.Einar Staff.KIF      49,5
6.Yngvar Jacobsen.KIF  51,2
7.Karl Gulbranden.KSK  52,0
Sigurd Jensen.HSK      52,0
9.Fredrik Jensen.HSK   54,8

The attending crowd yelled like lunatics. His wife and friends came running to give their gratulations. Life was sweet again, he thought. And the sweetness washed away all the bitterness over the victory of the small minds, washed it away forever.
In the break, the pair Yngvar Bryn and Alexia Schøyen had a figure skating exhibition. Then followed the junior 1500m, also grabbed by the TSK, who won the junior cup comfortably.
1500m juniors
1.Rustad    2.41,0 pb
2.Jacobsen  2.41,1
3.Fyhn      2.41,9
4.Brandt    2.44,0
5.Larsen    2.44,3 pb
6.Mathiesen 2.46,2
Lundaas     2.46,2 pb
8.Bertelsen 2.48,0
Schou       2.48,0
10.Johansen 2.48,2 pb
11.Haug     2.48,4
12.Syversen 2.51,1f

Again in the 1500m, Oscar had the pleasure of skating alongside his old friend Martin Sæterhaug like so many times before. They did not stay alongside for very long, though. Oscar attacked with the same pent-up energy as in the former distance, holding nothing back. He blew off steam like a team of racing horses on a wintry night, rising and mixing with the freezing smoke from the yet open waters of Mjøsa nearby. Almost perplexed the audience admired his dancing progress down the first straight at breathtaking speed, then another. Did he aim for a record again? Did he intend to rob Henning Olsen of his second record as well, and in his first attempt of the season? Martin lagged further and further behind, fearfully far, just about a whole straight when the race was over. That was a lot. Impressive. Had Oscar shown them a new way to skate the 1500 meter again? The spectators broke their transfixion now, running wild, uncontrollable. And neither did the time have any calming effect when it was announced. The record survived. By half a second. But he did set a lowland personal best, the 4th best lowland time ever, only a 10th behind Eden's legendary track record, and on this cold, rough ice.
1500m junior
1.Oscar Mathisen   2.25,5 lowland pb
2.Martin Sæterhaug 2.34,0
3.Einar Staff      2.40,4
4.Karl Gulbrandsen 2.42,5
5.Einar Berntsen   2.45,4
6.Thoralf Thoresen 2.46,8
7.Yngvar Jacobsen  2.48,6
8.Sigurd Jensen    2.51,2

With this, Oscar acquired his 2nd share in the Hamar cup, one short of winning it outright. All the expertise present were mighty impressed at such a debut, and predicted times around 44 flat and 2.20 under good conditions at Frogner.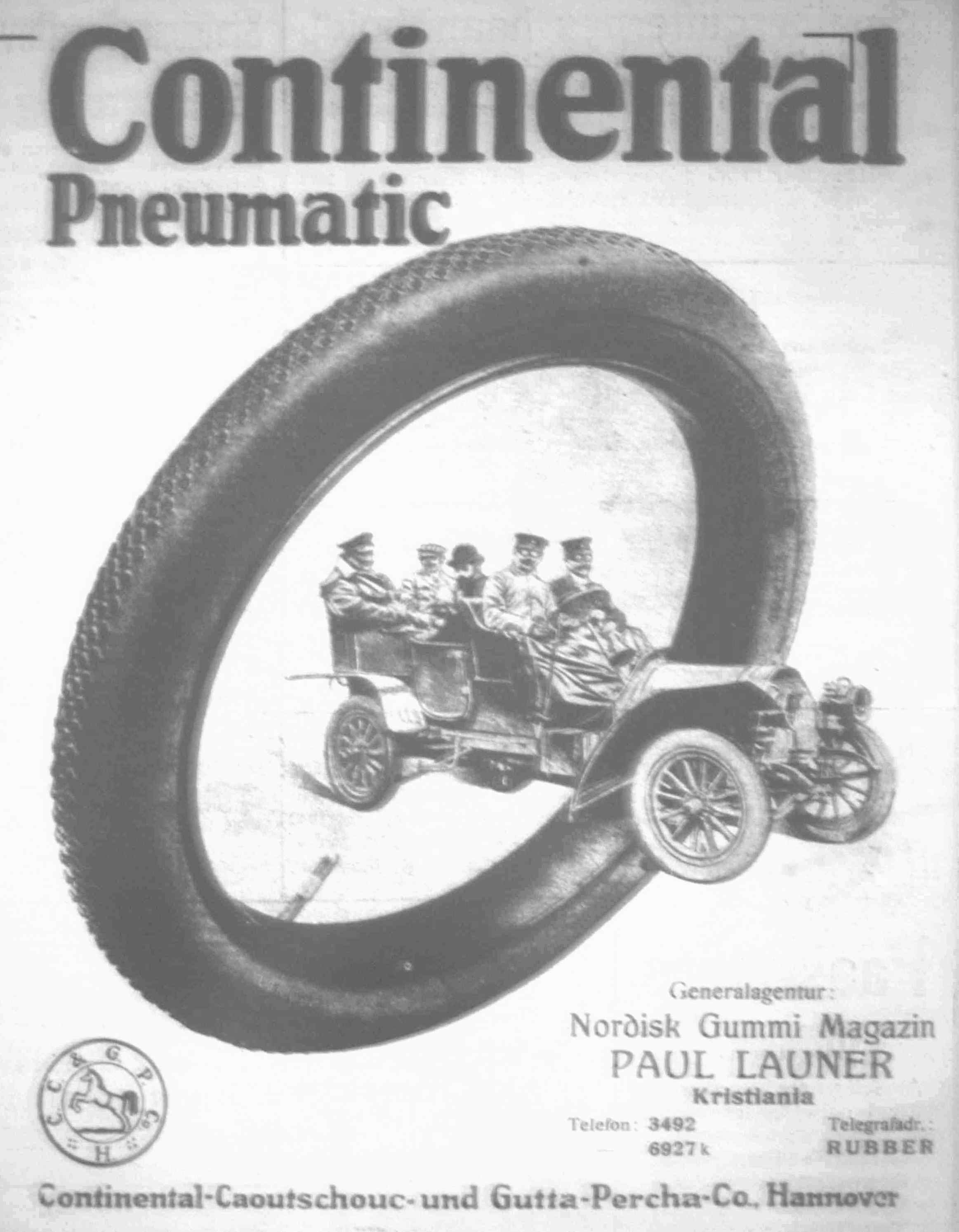 Today's commercial: Use Continental pneumatic for your automobile. Norwegian agents Nordisk Gummi Magazin Paul Launier, Kristiania. Phone 3492, 6927k, telegraph address.: RUBBER. Produced by Continental Caoutschouc und Gutta-Percha Co. Hannover.