Serious attacks on Strunnikov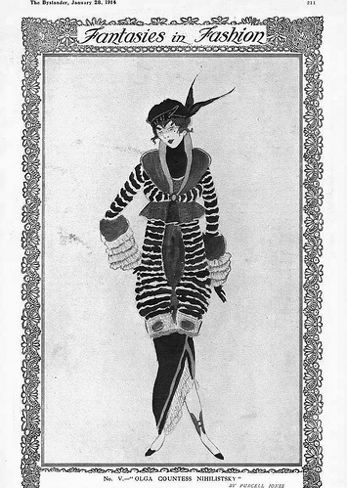 A hundred years ago this week, the Chinese finally started taking action against the bubonic plague that had been claiming thousands of lives lately, as the emperor decreed that all dead victims were to be incinerated in order to avoid contagion.
On Tuesday, yet another treaty was signed, this time a trade and shipping treaty between the USA and Japan, the Japanese embassador baron Uchida and the US foreign secretary Philander C. Knox were the signatories.
Meanwhile, the archbishop of Stockholm along with the chairman of the School Board as well as a large number of professors (apparently a fair number of them from the Faculty of Theology) signed a petition to the government against the extensive traffic in immoral pictures in the shape of postcards or similar, calling for stricter punishment against the crimes. And on Friday, Pope Pius X declared the new Parisian fashion of harem skirts an abomination and caracterised them as immoral in the extreme.
In Mexico, the rebels under the command of Francisco Madero attacked Casas Grandes. But the attack failed and Madero himself almost got killed. From then he stayed away from the front lines and left immediate command to others.
British and Russian troops entered Tibet from opposite sides, having vied for control over the territory for a decade. Meanwhile Russia's first Buddhist temple was erected in St. Petersburg.
Other news: enormous quantities of snow in Constantinople (I bet they had at least 5cm). In the Kristiania papers, Christian Krogh holds rabid verbal duels with Andreas Aubert about some stuff, best forgotten really.
Down in the Antarctica, Scott was on his way back from his first depot drive. On Monday they drove 56km on a good and firm surface blown clean by the wind. He noted the low southern sun accompanied by pretty light effects in the ever-changing clouds, some bright pink cirrus on a deep blue background with intermittent glimpses of shining white peaks in the distance. The weather was so unpredictable that he wondered if it actually originated there instead of being influenced by other regions. On Tuesday, the weather turned bad with low visibility, and they had an accident with a crevasse. His and Meares' whole 13 strong dog-team fell into it, but miraculously both drivers and the sledge stayed on top. The next hour was spent in rescuing the poor animals one by one, including two who had fallen out of their harnesses and lay resting and a little battered on a snow-bridge 20 meters down.
At half past 4 in the morning Wednesday they reached main camp, where they found that two of the three ponies they sent home had died during the march. One of them was Blossom. James Pigg was the name of the survivor. But the worst news of all was the message from Terra Nova of Amundsen being installed in the Bay of Whales. This gave him the advantage of being already 115kms nearer to the pole, plus he could start earlier as he didn't bring ponies. For a while the mood was rather low in the camp, and there were those who felt like going over to the Norwegians and having it out with them.
On Friday, Scott drove out again with three men on their way to Corner Camp, the secondmost southerly depot. The weather was unpleasant. The next day, however, this Saturday, it was pleasant with good visibility and they were able to see Oates and Bowers in the distance, also on their way to the depot
Amundsen was ready to depart for his 2nd drive on Tuesday night. The good results from the first drive made them load even more on the sledges this time. Half past nine next morning they were on their way. The whole expedition took part except Lindstrøm the cook, who was given the job of watching and tending Framheim. The weather was grey at first and the clouds brought snow making the going heavier. It cleared up towards evening though, and they set up camp in brilliant sunshine 29kms further south. Next day the surface was heavier still and they only managed 20kms. Thursday brought a blizzard that ceased around noon. They had been steering largely by compass so far, but when it cleared up around 3PM, and they were thinking of going to rest for the day, they found one of their flags from the last drive, which told them they now were 72kms from Framheim. On Friday it was clear and calm. A bit colder, −25°C, but it didn't feel so cold due to the lack of wind. They drove 29kms that day. This Saturday it was foggy and cold with a strong wind, and they had to go by compass again.
Rather variable weather in the Antarctic these days it seems, and further north in Trøndelag it was at least as variable. Rain and cold, storm and sleet had alternated day by day, never the same two days in a row. The last week it had been even more variable than before, with the air pressure down to 716mm, and the temperature stayed above freezing. A full meter of snow had fallen, but down on the rink the water stood 1.5" high, drawing billowing wakes behind the skaters as they tried it, and leaving them soaking wet up to their knees. Thursday morning brought a blizzard here, too, but then it changed to rain which gave way to sudden alternations of snow, sun and more rain. Towards evening it cleared up, giving hopes for colder weather.
Trondhjem had been given this championship on the occasion of their 35th anniversary, the oldest skating club in Norway by far. The inaugural board in 1876 according to the papers were lieutenant H. Bassø, lieutenant C A Knoff, technician A Hartmann and engineer J Jensen. Norsk Idrætsblad informs ut that they had their rink at the Royal Manor at first, then at the Gas Works. In 1889 they moved to Kalvskindet and on March 1st, 1899, the board were given the authority to acquire land for the current rink on Øya, a piece of land deliminated by a sharp bend in the river Nidelva, then in the outskirts of the city. Engineer Arthur Motzfeldt had been a member of the club board since 1885, and chaired it since the year after. According to the article the position of TSK as one of the main forces in skating is largely due to his incessant selfless devotion and efforts—doubtless one of the best servants our sport has ever had. For several periods he served as NSF president as well. A dinner was arranged on Thursday celebrating both the club anniversary and his 25th anniversary as chairman.
In preparation for the championship, a mainstand had been built on the platform beside the track, and stepwise lower stands amphitheatrically built around the whole circumference. There was a separate stand for the press. Strunnikov was happy with the rink, as it had long and broad curves unlike Hamar. The control measurements showed a 399.92m circumference with a track width of 10 meters. With its spacious clubhouse, modern, practical stands, dressing rooms, café and board rooms, the club was in possession of the best skating facilities in the nation. Its current working capital was Kroner 100,000:-, a formidable sum at the time.
The temperature had fallen below freezing Friday night and hopes for improved weather were rising. Morning broke with calm and glimpses of blue amid heavy clouds. The city drew a sigh of relief. The start of the championship was scheduled for 1:30PM, but flocks were starting to trek towards Øya hours before, converging on the rink where a myriad of flags and banners waved gaily in the wind. The atmosphere was thick with expectation. Names, records and predictions were discussed freely in the throng of 2-3000 who gathered in the stands. Just before the start a shower of sleety snow covered the track 2 inches high, to the despair of the onlookers. But 20-25 brooms came out, and with the aid of the sun they soon repaired most of the damage.
Referees at the championship were Messrs Georg Baumann, St. Petersburg, Hans Erichsen, Kristiania, Filip Petersen, Hamar, Nic. Klinge and G. M. Øien, Trondhjem. Chief referee Arthur Motzfeldt. Starter Peder Østlund. As the start was approaching, two of the entered skaters were missing, Magnus Johansen, who simply failed to show up, and Leif Sættem, who had reported sick. Monsen in 2nd and Jacob Sæterhaug in the 7th pair thus had to skate alone.
As soon as the track had been satisfactorily swept it was time to line up the first pair of the championship—the Dutchman Taconis and Sigurd Jensen from Hamar. The world champion and still world record holder Østlund lifted his flag. It went down and the championship was under way. Not in a really terrific pace though. The pair was won by Taconis in 52,0, 9/10 ahead of his pairmate. Jensen's clubmate, the Olympian Monsen set up a bit more pace in the next pair and took a lead with 49,5, which he lost in the following one to the home favourite Martin Sæterhaug who clocked 48,3, beating Ejnar Sørensen by more than 2 seconds, well applauded by the audience.
Fourth pair and things were hotting up with another duel between Strunnikov and his supposed main opponent Bohrer. The Austrian drew first inner and had the best start, going into the first curve with a lead that increased to 25 meters on the back straight. But the Russian skated the last curve magnificently, and when they entered the final straight he was one step ahead. He increased the difference for each stride down the last 100 meters and crossed the line in the sensational time of 46,4, 6/10 ahead of Bohrer.
For the national champion Henning Olsen, who unlike last weekend was able to take leave from his job, matching such a race might have seemed a little staggering. At least he staggered and nearly fell over some uneven ice in the first inner curve, and then stopped skating when he reached the press stand, 10-12 meters before the finish line, seems he thought the line was there. He did beat Lundgreen by more than a second, but the time was only 48,6.
In the 6th pair, Thoresen beat Johannesen 49,6 to 50,4. In the 7th, Jacob Sæterhaug skated alone in 51,4. In the 8th, Fladaas beat Kristian Fyhn 49,6 to 50,0, and in the 9th and last, the Swede Andersson beat Ivar Fyhn by nearly 2 seconds and snatched 3rd place in 48,2. No Norwegian medals yet again. Were we heading for our worst season ever?
Results:

1.Nikolaj Strunnikov      46,4
2.Thomas Bohrer           47,0
3.Otto Andersson          48,2
4.Martin Sæterhaug        48,3
5.Henning Olsen           48,6
6.Otto Monsen             49,5
7.Johannes Fladaas        49,6
Thoralf Thoresen          49,6
9.Trygve Lundgreen        49,9
10.Ivar Fyhn              50,0 eq. pb
Kristian Fyhn             50,0 (no, they're not twins)
12.Stener Johannessen     50,4
13.Ejnar Sørensen         50,7
14.Jacob Sæterhaug        51,4 pb
15.Wynout Hendrik Taconis 52,0
16.Sigurd Jensen          52,9
After a short break with figure skating, the 5000m started in quite variable conditions, with snow showers and sun alternating and a gusty wind sometimes freely sweeping over the track, sometimes quite dying down. This may have made the conditions uneven and could perhaps explain the less impressive results of Strunnikov and Bohrer, but to me the times below do not give any definite indication of such an effect.
First pair was Ivar Fyhn and Stener Johannessen, who skated a vigorous race timed to 9.17,8, lapping the TSK-skater in the next to last lap.
Splittimes:
69-1.51-2.44-3.32-4.21-5.12-6.03-6.53-7.45-8.35-9.25-10.15,5
64-1.48-2.30-3.14-3.59-4.45-5.31-6.15-7.02-7.48-8.33-9.17,8
2nd pair featured the home favourite Martin Sæterhaug and the overall bronze winner from Hamar, Otto Andersson, who had beaten Martin by 10 seconds then and now unsurprisingly took the lead with splittimes pretty similar to Johannessen's. But after 5 laps, Andersson showed some weakness with a 46 lap, and the TSK skater immediately drew level with him. The audience audibly began to see some hope. After a 44 lap the pair passed the 3000m split 3 ahead of Johannessen, still side by side. But next lap, Martin was visibly ahead, and then another 44 lap gave him a 20m advantage and a 5 second advantage over Johannessen. Both skaters were tiring now, but the difference slowly increased towards the end, and with 9.14,4, Sæterhaug took a surprising lead, noisily applauded, 4.1 seconds ahead of the Swede.
68-1.49-2.32-3.16-4.00-4.44-5.28-6.13-6.57-7.43-8.29-9.14,4
66-1,47-2.31-3.14-3.58-4,44-5.28-6.14-6.59-7.46-8.33-9.18,5
Next, Ejnar Sørensen followed the pace of the two first pairs for a few laps, but from 2000m he tired and lagged behind, clocking laps up to 50 towards the end. His pairmate Jacob Sæterhaug was 9 seconds behind at most, but closed the gap to less than half in the end.
64-1.46-2.31-3.17-4.03-4.50-5.38-6.26-7.15-8.05-8.55-9.44,0
69-1.54-2.39-3.25-4.11-4.59-5.47 -6.35-7.22-8.11-9.00-9.48,3
In the 4th pair, Taconis and Jensen again duelled without setting up a particularly close and interesting fight or any notable pace.
67-1.54-2.39-3.27-4.15-5.02-5.51-6.39-7.29-8.17-9.06-9.55,6
70-1.57-2.44-3.32-4.19-5.06-5.54-6.44-7.32-8.22-9.11-9.58,9
Then, Fladaas and Thoresen started at about the same pace as the former pair. Thoresen soon began to trail and gave up in the 7th lap letting the TSK skater finish alone.
69-1.55-2.41-3.28-4.15-5.03-5.50-6.38-7.27-8.17-9.06-9.54,4
71-1.56-2.43-3.34-4.23-5.15
After this half hour of drinking beef broth (or whatever the audience had brought along), it was time for another showdown between the two main rivals from last weekend, Strunnikov og Bohrer. As usual the Russian had a moderate opener, but then he set in two 42-laps. Bohrer followed this murderous pace, but had to yield a couple of meters. Then the pace slackened to 43 and 44, and Bohrer followed, but in the 7th lap a gap began to form and slowly grow. Strunnikov was 3 seconds ahead of the leader Sæterhaug by then, but didn't gain much during the last laps, in which his gap towards Bohrer increased to 5 seconds.
66-1.48-2.30-3.13-3.57-4.41-5.25-6.10-6.55-7.40-8.26-9.10,2
66-1.48-2.31-3.14-3.58-4.42-5.27-6.13-6.59-7.45-8.31-9.15,6
The favourite did take the lead, then, but not with quite the same margin as earlier. And in an unusually elegant race, the national champion Henning Olsen had the audacity to set in an attack. After a third lap sensationally clocked to 41, he was equal, but knowing he couldn't keep that up he slowed down a little again for the next one, though perhaps a bit too much; it was timed to 45, losing him 2 seconds. But with a mixture of 44s and 45s for most of the rest of the race he managed to keep it at 2-3 seconds, scoring a final time good for 2nd place so far, and lapping the Olympian Monsen with 3 laps to go.
65-1.49-2.30-3.15-3.59-4.44-5.28-6.13-6.58-7.42-8.28-9.13,4
72-2.00-2.49-3.39-4.29-5.19-6.10-6.58-7.43-8.38-9.30-10.18,5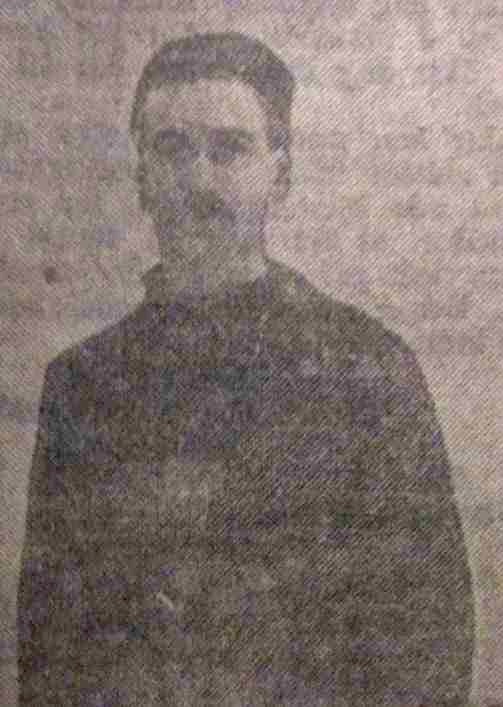 Last pair was Kristian Fyhn and Lundgreen, who fancied his chances of matching the Russian now and opened faster than anybody. At the two first splits he was a second ahead. At 1400m he was equal, and he followed the 43 pace of Strunnikov in the next lap and his 44 of the following one with the audience wildly cheering. Then he tired and went into 45s, which promptly gave him a 2 second deficit. Clocking two 46s he fell behind Olsen as well, but he managed to pull out a good kick for a final lap of 43,2, and secured 2nd place. Newspapers called him hero of the day.
65-1.47-2.30-3.13-3.57-4.42-5.27-6.12-6.58-7.43-8.29-9.12,2
71-1.58-2.45-3.32-4.21-5.09-5.58-6.47-7.36-8.28-9.13-10.01,7
Results

1.Nikolaj Strunnikov      9.10,2
2.Trygve Lundgreen        9.12,2
3.Henning Olsen           9.13,4
4.Martin Sæterhaug        9.14,4
5.Thomas Bohrer           9.15,6
6.Stener Johannessen      9.17,8
7.Otto Andersson          9.18,5
8.Ejnar Sørensen          9.44,0
9.Jacob Sæterhaug         9.48,3 pb
10.Johannes Fladaas       9.54,4
11.Wynout Hendrik Taconis 9.55,6
12.Sigurd Jensen          9.58,9
13.Kristian Fyhn         10.01,7 pb
14.Ivar Fyhn             10.15,5 pb
15.Otto Monsen           10.18,5
Overall

1.Strunnikov    2 points
2.Bohrer        7
3.Sæterhaug     8
Olsen           8
5.Andersson    10
Lundgreen      10
7.Johannessen  17
Fladaas        17
9.Sørensen     20
10.Monsen      21
11.J Sæterhaug 22
12.K Fyhn      22,5
13.I Fyhn      23,5
14.Taconis     25
15.Jensen      27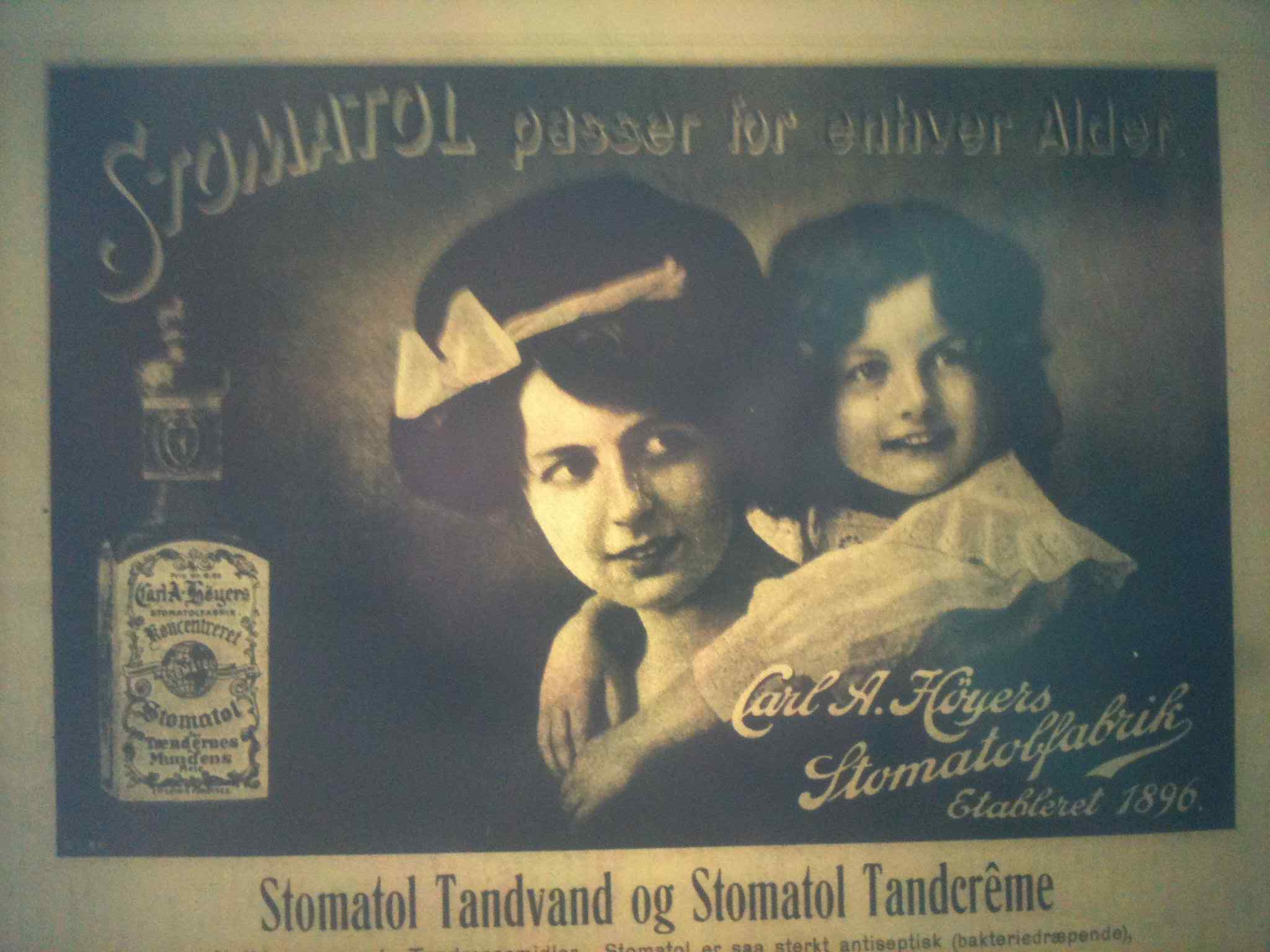 Today's commercial: Stomatol fits any age. Carl A. Høyer's Stomatol Factory, established 1896. Stomatol dental water and Stomatol dental paste.