While Roald Amundsen and his men and dogs had a restful Sunday down in the Antarctic, inside and outside the half-finished Framheim, the National Championship at Frogner Stadion proceeded with its second day. The weather had turned for the worse with a biting gale and temperatures around 0 centigrade. Still, 7-8000 people surrounded the icy oval to witness the breakthrough of this long awaited talent, Henning Olsen, and further masses on the mounds outside the stadium. Scoreboard numbers and hats flew in the wind as the 500m got under way, and no pbs were set in the distance. Henning Olsen who equalled his, won it, a tenth ahead of the world record holder, but far beyond the rest. Unfortunately I have no pairings here. Grateful if you can provide them.
500m:

1.Henning Olsen.KSK       47,1 eq pb
2.Sigurd Mathisen.KSK     47,2
3.Stener Johannessen.KSK  49,8
Carsten Carlsen.KIF       49,8
5.Thoralf Thoresen.KSK    50,0
6.Martin Sæterhaug.TSK    50,2
7.Trygve Lundgreen.KSK    50,4
Otto Monsen.HSK           50,4
9.Aksel Mathiesen.KSK     50,7
10.Magnus Johansen.KIF    50,8
11.Olaf Hansen.KSK        51,4
12.Ludvig Engebretsen.KIF 52,0
Einar Staff.KIF fell and did not finish.
Overall:

1.Henning Olsen.KSK        3
2.Sigurd Mathisen.KSK      8
Stener Johannessen.KSK     8
4.Magnus Johansen.KIF      9
Trygve Lundgreen.KSK       9
Martin Sæterhaug.TSK       9
7.Thoralf Thoresen.KSK    14
Aksel Mathiesen.KSK       14
9.Olaf Hansen.KSK         17
10.Ludvig Engebretsen.KIF 19
The junior 1500m provided a few pbs, though not like yesterday's junior distance:
1500m juniors:

1.Einar Berntsen.KIF      2.37,8 pb
2.Reidar Gundersen.KSK    2.39,9 pb
3.Magnus Herseth.KSK      2.42,5 pb
Sigurd Syversen.KSK       2.43,1 
5.Oluf Jacobsen.TSK       2.43,2
6.Thoralf Hansen.KSK      2.43,5 pb
7.Gunerius Schou.KSK      2.43,8
8.Trygve Aulie.KSK        2.44,1
9.Wilhelm Bertelsen.KIF   2.44,9 pb
10.Jonas Syversen.KSK     2.45,4 pb
11.Leif O Sættem.TSK      2.46,4
12.Ivar Fyhn.TSK          2.48,5
Kristian Fyhn.TSK         2.48,5
14.Lars Larsen.HSK        2.49,0
15.Oscar Larsen.KSK       2.49,4
Josef Bye.KSK             2.49,4 pb
17.Albert Johansen.HSK    2.50,1 pb
18.Wilhelm Wolff.KSK      2.50,4 pb
Sigurd Jensen.HSK         2.50,4
20.Otto Haug.KIF          2.50,5
21.Kristian Nilsen.DIF    2.50,6 pb
22.Osvald Mikkelsen.HSK   2.51,2
23.Yngvar Jacobsen.KIF    2.51,4 pb
24.Thorolf Hansen.KSK     2.52,2
25.Einar Aarum.KSK        2.52,9 pb
26.Michael Jensen.KIF     2.53,1 pb
27.Ragnvald Mathiesen.KSK 2.54,2
28.Einar Mathiesen.KSK    2.55,0
Wilhelm Pahle.Moss IF     2.55,0 pb
30.Trygve Aarnæs.KSK      2.55,3 pb
31.Ulfsberg               2.57,3 pb
32.Carl F Pettersen.KSK   3.06,6
Fell: Karl Gulbrandsen.KSK og Josef A Johannessen.KSK
Dnf: Georg Torgersen.KSK
Olsen's championship looked pretty assured already with his big points advantage going into the 1500m. He only need to skate a reasonable race, and keep Magnus Johansen from winning it, because if he did, he would win the championship. But Johansen was unlucky again. One of his boots split open half-way, and he had to skate the two last laps with little support from the boot. When he finished at 2.36,2, it was (probably) clear already that his title chance was lost.
Curious coincidence of mishaps. Or could it be that someone had a grudge against Magnus Johansen, possibly due to his club change? Or was it he that had told Oscar off, causing him to lose his amateurship, and somebody hated him for it, enough even to sabotage his equipment? And could his awareness of this be the reason for the club change?
Henning Olsen skated in the 5th pair against Sigurd Mathisen. By then it was (probably) clear that he needed 2.38,2 or better to be sure of keeping his lead. That didn't look like an impossible task as his pb was 2.32,3. Johannessen, who was equal to Mathisen so far overall, (probably) had the best time until then with 2.33,9. Sigurd thus had to beat him in order to win silver. And he fought for each stride of the race. A din of encouraging shouts from the audience followed them around the rink. Sigurd took the lead and kept it. He was widely held as a distance favourite, and betting was rife. But at the final straight, Olsen was finally in front, and he extended his lead to a second before finishing.
1500m:

1.Henning Olsen.KSK       2.32,8
2.Sigurd Mathisen.KSK     2.33,8
3.Stener Johannessen.KSK  2.33,9
4.Martin Sæterhaug.TSK    2.36,0
5.Magnus Johansen.KIF     2.36,2
6.Trygve Lundgreen.KSK    2.38,2
7.Aksel Mathiesen.KSK     2.40,6 p
8.Otto Monsen.HSK         2.42,6
9.Olaf Hansen.KSK         2.43,8
10.Thoralf Thoresen.KSK   2.45,0
11.Ludvig Engebretsen.KIF 2.46,0
Total points:

1.Henning Olsen.KSK        4
2.Sigurd Mathisen.KSK     10
3.Stener Johannessen.KSK  11
4.Martin Sæterhaug.TSK    13
5.Magnus Johansen.KIF     14
6.Trygve Lundgreen.KSK    15
7.Aksel Mathiesen.KSK     21
8.Thoralf Thoresen.KSK    23
9.Olaf Hansen.KSK         25
10.Ludvig Engebretsen.KIF 29
Henning Olsen has only skated for 3 years. He has been a subject of strong predictions from the start, now fulfilled. His motto is first work, then sport. Hence he has never participated abroad, being too preoccupied with his studies. Good hopes to see him at the international championships this year, as they both take place inland.
Kudos to those who can guess the author of the following witty epistly, published as sort of a commentary to the national championship (sorry, available only in Norwegian):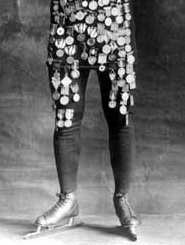 Jeg finder i Avisen Portrætet av en ung Mand. Han er en av Tidens største og navnkundigste. Han er en av dens Guder. Titusen har hyldet ham, hans Navn er paa alles læber, ogsaa paa fremmede Nationers. Han har i Sandhet kastet Glans over sit Fædreland!
Hans Livs Daad er da ogsaa overordentlig. Ti - eller var det tyve? - Tusen Meter har han løpet i Ring paa en Skøitebane, og han har gjort det hele 2/10 sekund hurtigere end noen av sine Konkurrenter. Fortjener saa ikke han at hæves til Ærens Tinde og Konkurrentene at utstøtes i forsmædelig Glemsel? Jeg ser jo ogsaa hvor lyst og seirende han smiler her paa Billedet, tat i selve den store Lykkens Time paa Livets Middagshøide, da hans vældige Ærgjerrighets Drøm var blit Virkelighet.
Jeg kan ikke hjelpe det, men jo mere jeg betragter dette Billede av den unge Helt, disse ædle Ansigtstræk, dette medaljebetyngede Bryst, jo mere faar det Hele i mine Øine en næsten sindbilledlig Betydning. Hved er han vel andet, denne Vidunderlige, ene Levendegjørelsen av alle den norske Undoms højeste Idealer?
Er det ikke, som om al denne Ungdoms Stræben, dens Længsler og sterkeste Daadstrang her har forenet sig og gar skutt sin skjønneste Blomst? - Ja, med Rette skal han tilbedes, den guddommelige, som har stillet Tidens heteste Higen. Men et nyt Ideal skal ogsaa samtidig vinke og anspore den norske Ungdom fra det fjerne: en ny guddommelig, som atter løper Banen rundt, og som gjør det endnu 2/10 Sekund hurtigere.
Dette Portræt i Avisen er forresten slet ikke tilfredsstillende. Kun meget ufuldkomment kan et saadant Brystbillede gi det rette Indtryk av Heltens Storhet. Jeg savner det vesentlige. Jeg savner Benene. Først her vilde jeg fundet uttrykt de eminente Personlighetens Egenskaper, som har sikret ham Berømmelsens Laurbær. Det er jo overhodet en taapelig gammel Skik, dette, at avbilde Hoderne paa disse Tidens største Mænd. Det er en Levning fra en naragtig Aandshovmodets Tid. Vor Tids ypperste Bedrifter utføres med Benene. Det hadde vist engang en halvt foragtelig Klang, dette gamle Ord, at «hadde man det ikke i Hodet, saa hadde man det i Benene». Nu er jo dette at «ha det i Benene» forlængst blit den høieste Ros. Men hvorfor da sætte Hodet i Avisen? La det være en Avtale, at vi bryter med gammel Fordom og for Fremtiden kun portrætterer de navnkundiges Ben!
Men hvad Ret har nu jeg til at tale med om disse store Ting? Jeg Stymper, hvis Ben aldrig har utviklet sig til ædlere Bruk end til at tjene som ganske ordinære Apostelheste! Hvor ofte kan jeg ikke bittert begræde den Skjæbnens Ugunst, som har hindret mig i at holde Skridt med min tid! Ogsaa jeg stod dog engang midt i den rikeste Utvikling. Jeg brukte mine Skøiter med Lidenskap, jeg styrte min Kjælke som en Virtuos, jeg frygtet ikke Skibakkens Farer. Men jeg stagnerte saa ynkelig og saa forunderlig i 15 Aars Alderen. Det var som om al Evne, ethvert Initiativ var veget fra mig. I min store Forblindethet gav heg andre Interesser Plads i mit Sind. Jeg trodde i min Taapelighet, de var større og høiere. Forsilde indser jeg nu, at jeg forsømte det ene Fornødne, den største og rikeste Livsopgave. Ogsaa jeg kunde maaske blit blandt de Udødelige hvis Bedrifter maales ut i Tommer og Sekundernes bittesmaa Brøker.
Hvor den menneskelige Natur er skrøpelig! Med Skam og Blusel maa jeg bekjende, at min sportslige Vanmagt har avlet Had og Misundelse i min Sjæl. Jeg kan gripe mig selv i at vrænge haansk ad denne sportsglade Ungdom, som i Helvedessving og Korketrækker vover Liv og Lemmer for sine Idealer. Min Tankes Ondskap kan være saa stor, at jeg kan ønske disse Mennesker en Thackeray paa Halsen, at jeg kan tænke, han vilde viet dem et smukt litet Avsnit i «Book of Snobs». Men det hører jo heldigvis til de rent forbigaaende Tenkeforvildelser. Paa Bunden av min Sjøl er det lutter Beundring. Og jeg vet jo i Virkeligheten ingen ædlere Nydelse, intet mere ophøiet Syn end det, man har en saadan Søndags Formiddag, naar man paa sine skrøpelige Ben tar Opstilling ved et av de ovennævnte kritiske Punkter og ser Toget av den norske Ungdom, fra den 16 aarige til den 60 aarige drage forbi. Hvor er ikke det hele smukt og harmonisk! Hvor er det ikke som om hele Tidens Skjønhetshunger her maa kunne mættes! Denne Grazie, denne yndefulde Lethet i hver Bevægelse! Og dette Mod, som under Jubel og Latter sætter Livet ind for en stor Sak! - Jeg gaar altid derfra et mægtig og uutslettelig Skjønhetsindtryk rikere. Jeg ser det altsammen for mig i Tankerne paany. Jeg kan bare slet ikke begripe, hvorfor jeg altid den kommende Nat ligger og drømmer om en Kjødkvern i ustanselig Aktivitet.
Signed: Grinatus