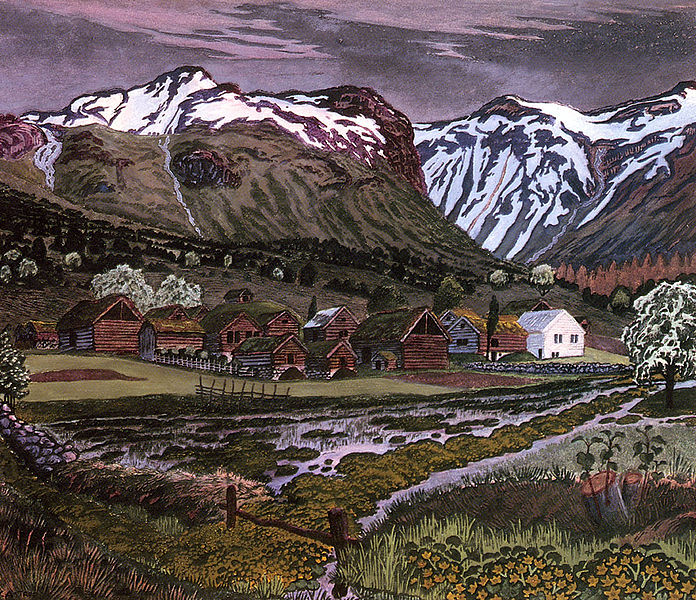 A 100 years ago today, Nikolai Astrup packed for the world again after having spent 9 years painting and running his family farm in his home district of Jølster.
This world is not without its trouble, however. There is some in Greece due to the Cretan question. And in Mexico, where the loser of the presidential election last November, Francisco Madero, declares the election invalid from his exile in the USA and calls for a revolt against the long-time president Porfirio Diaz. This revolt was to prove somewhat less velvety than the ones we have gotten used to today, however.
Other transatlantic matters: Newspapers are full of the Goplen murder. They had room for each individual murder in those days. And back home in Europe, the relations between the Triple Alliance and the Triple Entente already is a cause for concern. Sir Edward Grey, the British foreign secretary, is in Berlin to make an attempt at getting the Germans to join the Entente. But they seem happy in their Alliance, and no fruit comes out of the attempt.
Other interesting news from Berlin: The Australians Dunbar and Pole are being entered as participants in the figure skating World Championship.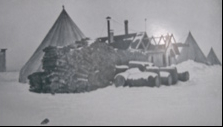 In the Bay of Whales down south on the Antarctic continent, Roald Amundsen and his human and canine crews had been busy pulling materials to build a wintering house: Framheim. This Saturday their house was under roof, and they decided to take the Sunday off resting and enjoying the midnight sun.
And while these explorers were basking in the polar summer sunlight, the National Championship was taking place at Frogner Stadion, in no less pleasant circumstances. When it started at 2 o'clock, a 1000 spectators were already present, pretty good for a Saturday. They were in an excellent mood, if not exactly as high as in the days of Oscar Mathisen.
The first event was the junior 500m, sensibly being arranged concurrently with the compulsory figures of the figure skating. It was a remarkably numerous junior class, and their results were ample evidence of the ice quality today; of the 34 who skated the distance through without a fall, only 13 did not improve their personal bests.
The championship 5000m started immediately afterwards. And the first pair was the favourite Magnus Johansen against the sprinter Carsten Carlsen. Johansen won easily, as Carlsen stopped after a few laps. But his time was 9.35—surely, that must be wrong? The ice was still excellent. He had skated one lap too many! Thankfully, two of the timekeepers managed to come up with a splittime for the 5000m, and it was a good one: 8.54,0. Climbing to 9th place in the 5000m all time list (and 7th place lowland). And in Adelskalenderen he climbed 1.34 points, past Sinnerud and Strunnikov, up to 16th place. Maybe Oscar wouldn't be that sorely missed after all?
In the second pair, Aksel Mathiesen with 9.20,5 beat Ludvig Engebretsen, who finished in 9.46,6. Then the two seasoned favourites Sæterhaug og Sigurd Mathisen skated a close duel with the Trønderen eventually prevailing, but only in 9.09,4, 2.8 seconds ahead of his pairmate. The sensation came in the 4th pair, when Henning Olsen skated his first race of the season in 8.56,9 and took over the favourite role, a time good enough for 10th place in the all time list. His pairmate Lundgreen also improved his pb well, to 9.08,3. And in the final three pairs, the newcomer Johannessen also improved himself furter, to 9.10,2, while only two of the others managed to finish their races. Johansen didn't quite like the proximity of Olsen, and decided to deliver a protest, just in case. But to no effect.
Results:
500m junior:

1.Reidar Gundersen.KSK     48,0 pb
2.Magnus Herseth.KSK       48,2 pb
3.Ragnvald Mathiesen.KSK   48,8
4.Einar Mathiesen.KSK      49,0 pb
5.Trygve Aulie.KSK         49,2 pb
Kristian Fyhn.TSK          49,2 pb
7.Einar Berntsen.KIF       49,5 pb
8.Oluf Jacobsen.TSK        49,8
Thorolf Hansen.KSK         49,8 pb
10.Jonas Syversen.KSK      50,0 pb
Ivar Fyhn.TSK              50,0 pb
12.Wilhelm Wolff.KSK       50,1
13.Gunerius Schou.KSK      50,4 pb
Oscar Larsen.KSK           50,4
Karl Gulbrandsen.KSK       50.4 pb
16.Sigurd Jensen.HSK       50,7
17.Osvald Mikkelsen.HSK    50,8 pb
18.Otto Haug.KIF           51,0
19.Sigurd Syversen.KSK     51,1
20.Lars Larsen.HSK         51,4 pb
21.Kristian Nilsen.DIF     51,6 pb
Wilhelm Pahle.Moss IF      51,6 pb
Trygve Aarnæs.KSK          51,6 pb
24.Albert Johansen.HSK     51,9 pb
Yngvar Jacobsen.KIF        51,9
26.Michael Jensen.KIF      52,0 pb
27.Josef A Johannessen.KSK 53,0
28.Einar Aarum.KSK         53,6
29.Thoralf Hansen.KSK      54,0f
30.Carl F Pettersen.KSK    54,3
31.Ulfsberg                55,0 pb
32.Josef Bye.KSK           55,2 pb
Georg Torgersen.KSK        55,2
34.Leif O Sættem.TSK       58,9f
5000 m:

1.Magnus Johansen.KIF    8.54,0 pb
2.Henning Olsen.KSK      8.56,9 pb
3.Trygve Lundgreen.KSK   9.08,3 pb
4.Martin Sæterhaug.TSK   9.09,4
5.Stener Johannessen.KSK 9.10,2 pb
6.Sigurd Mathisen.KSK    9.12,2
7.Aksel Mathiesen.KSK    9.20,5 pb
8.Olav Hansen.KSK        9.21,0
9.Ludvig Engebretsen.KIF 9.46,6 pb
10.Thoralf Thoresen.KSK  9.48,5 pb
dnf: Carsten Carlsen.KIF, Otto Monsen.HSK and Einar Staff.KIF
After the races, the annual congress ("ting") of the national federation was held. Representatives from Trondheim, Hamar, Lillehammer, Steinkjer, Skien as well as Kristiania were present. The financial position of the federation was strained, but was hoped to improve during the winter with all the three championships at home, from which the federation was entitled to income in accordance with the existing laws. The board presented new law proposals, which were adopted with few changes.
The name was changed into Norges Skøiteforbund. It is the purpose of the federation to promote all kinds of skating sport. Any club concerned with skating may apply for membership, but only the oldest club in each town or county has the right to hold championship as well as international and national races. If experience shows that the oldest club is not able to provide for the interests of the sport and the skaters, the board is entitled to assign another club in the same town or county the said rights, in accordance with provisions more specifically provided for in the federation laws. There is to be a board consisting of 3 members as well as 2 alternates and 2 auditors. There are provisions for the arrangement of the annual congress, board elections, processing proposals and applications for championships. All Norwegian amateurs approved by the federation may participate in the National Championship, which is to be arranged in compliance with the IEV laws, and from next year also including the 10000m. The federations send the champions to the international championships, and pays for at least three fourths of the expenses. Clubs may send further skaters at their own expenses. But applications for entry into international races should always be made through the federation board. Further, there are rules for approving records and more.
New board: President L A Thue, members Fr Monsen, Hamar, A Gresvig, Kristiania (outgoing president). Alternates H Eriksen and J Bredstue, Hamar, auditors A Motzfeldt, Trondheim and Harald Larsen, Hamar. The new board will constitute on May 1st 1.